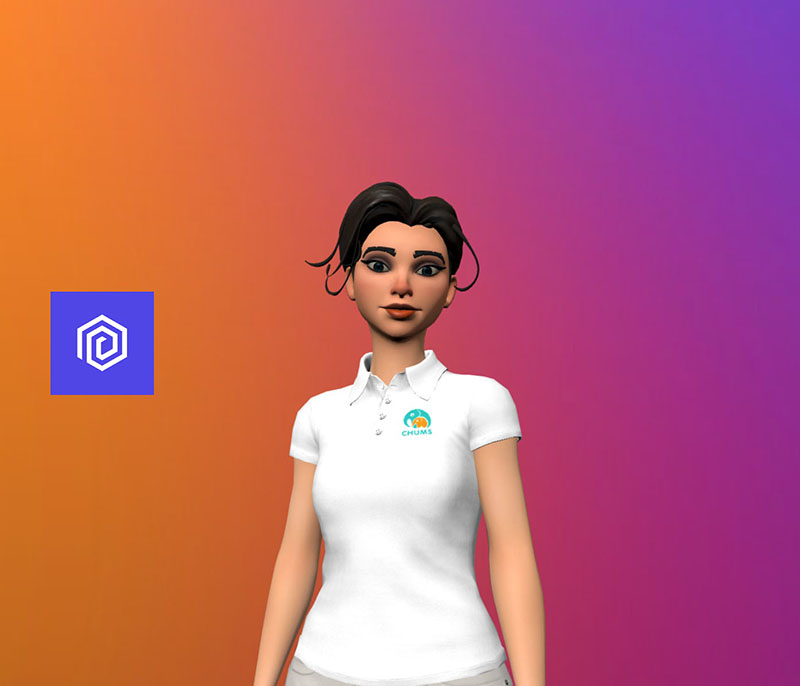 CHUMS partners with 3STORY to empower children and young people
CHUMS, a charity supporting the mental health and emotional wellbeing of children and young people, wanted to improve how they signpost and deliver their self-help resources online. Crowers Digital responded by developing a series of flows using 3STORY, the 3D-animated digital signposting and chatbot solution.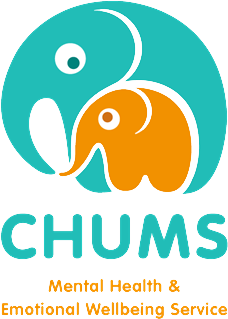 Providing 24x7x365 access to clinically-approved mental health resources to children and young people was the challenge that CHUMS needed to be solved. Given staffing constraints they needed to increase the capacity to provide assistance without dramatically increasing their costs.
Why not just provide the resources on their website as pages or links to downloadable PDFs? Quite simply, this would not engage children as young as 12 years old, and teens couldn't be expected to read reams of text either. How about a video? That might work, but CHUMS also felt that they needed to emulate a one-to-one consultation as much as possible. How could this all be done?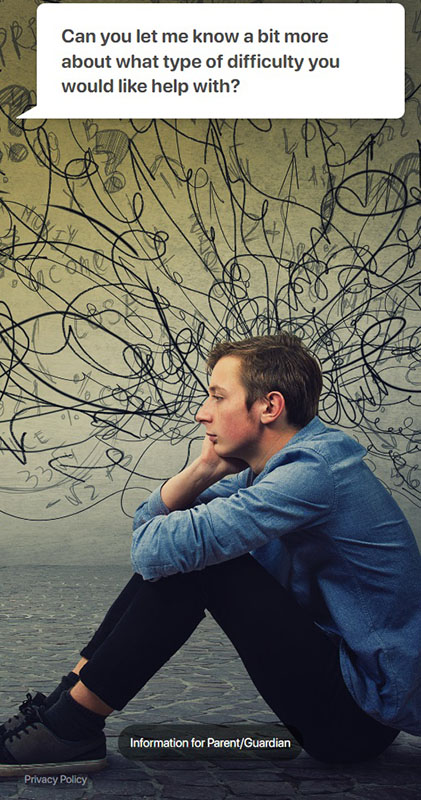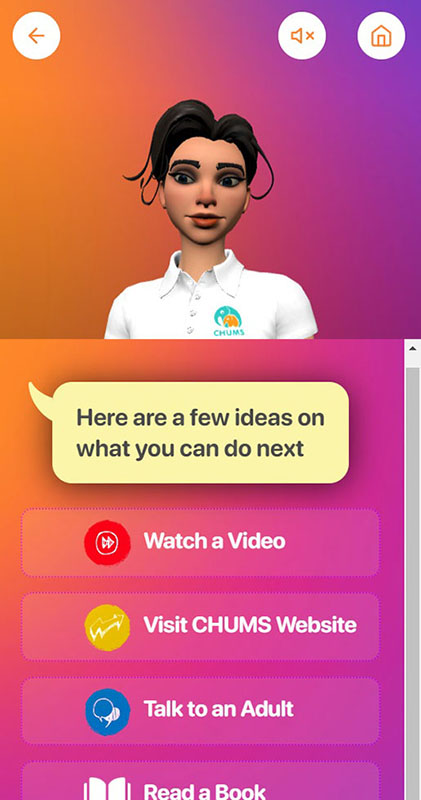 Enter 3STORY. This exciting new platform makes it simple to deliver content in an edutainment style. It combines presentation tools with hyper-personal chatbots and 3D-animated presenters including AI-powered text-to-speech.
The result is the perfect blend of fun, interactive engagement and directed elearning. Everything is on-brand even the presenter!
3STORY flows are delivered as normal web pages which enables CHUMS to advertise links to the content on billboards as QR codes.
CHUMS staff are able to manage and modify the signposting flows creating steps that form inputs include multiple choice responses, videos, links to websites or PDFs.
Some of the features of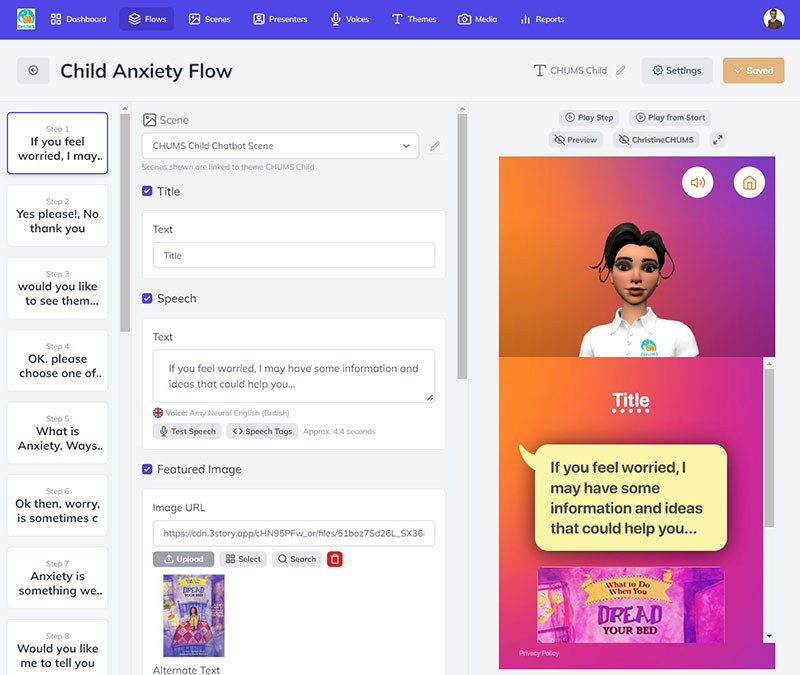 Flows
Create dedicated, branded landing pages
Define scenes and upload scene images into the Asset library
QR code generation
Online flowchart designer
Tag stages of a flow for tracking user paths
Presenters
Present Flows using text-only chatbot responses or 3D-animated characters and AI-powered text-to-speech
Manage 3D presenters and text-to-speech voices

Media
Over 2m royalty-free images included to search and add to flows
Upload images, PDFs and other linked resources
Forms
Multi-field form data capture
Latest data encryption techniques
Privacy
Adheres to the NHS data safeguarding policies
GDPR/Data Protection Act compliant
Audit trail and reporting of usage and responses
Reporting
Anonymised visitor stats
By flow, location, captured field values and custom filters
Integrate with Google Analytics
Detailed transcripts of user sessions and option to email transcripts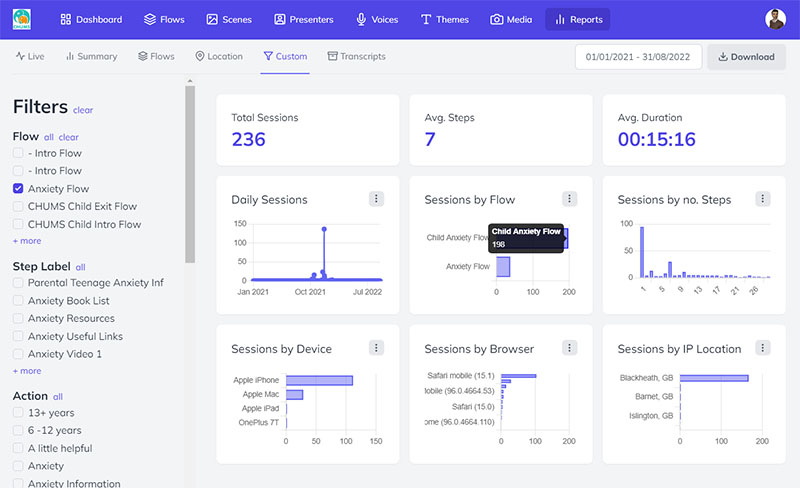 Reaction from CHUMS
Thank you Crowers Digital! We are delighted that CHUMS now has such an exciting new platform to help us meet our challenging goals to support children and young people with their emotional wellbeing.
Dawn Hewitt, Chief Executive, CHUMS
Find out how 3STORY can help you
3STORY from Crowers Digital is a perfect solution for ensuring elearning is an engaging experience that users will love.
Mental health topics are not easy to communicate effectively online, but 3STORY helps break down barriers and enables organizations like CHUMS with new and cost-effective ways to provide their services.
Contact us today to find out how 3STORY can help you provide an engaging and enriching way to deliver digital elearning and self-service.
Peter Chapman