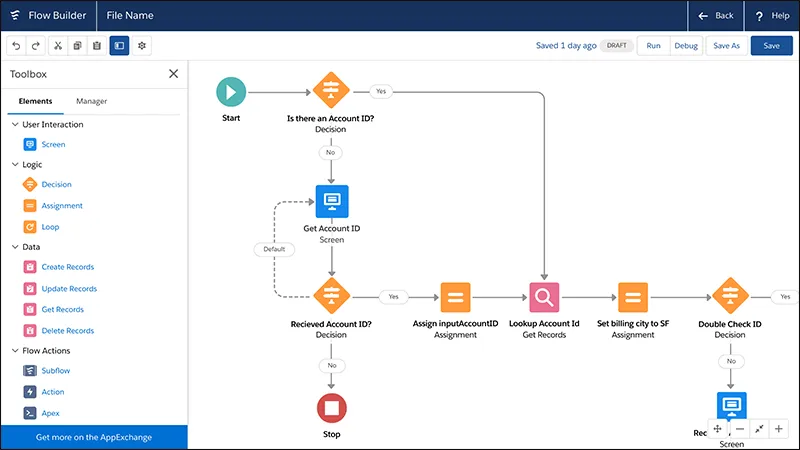 Low Code & No Code Solutions
Accelerating enterprise productivity
Current trends show that increased complexity, changing customer expectations and a shortage of talented developers are threatening to limit an organisation's ability to innovate. Low code and no-code business solutions aim to solve these problems.
Low code development is a visual approach to software development that expedites the delivery of the final product. As a result, your organization can develop feature-rich business solutions that meet your needs by automating simple manual tasks and continuous collaboration. We predict that over half of medium-to-large enterprises will use a low-code application as part of their platform.
High-code platforms require specialized skills that differently-skilled team members may struggle to collaborate on. Low-code app development offers several benefits that make it easier for those with limited experience to build business applications.
Collaboration
Visual design tools give developers an intuitive map for each member to understand their tasks and how their roles fit in the overall workflow.
Aglity
Business agility lets companies adapt to market changes with innovative solutions. Low code allows enterprises to pivot to new initiatives that arise from abrupt market changes. You can build cloud applications that connect with your existing systems or connect them to new ones; and leverage APIs in all stages of development, testing, and deployment.
Development Speed
With low code enterprise solutions, you can accelerate your development cycles. For example, imagine what experienced developers could achieve with the same technology: flawless and feature-rich outcomes created with visual designs in minutes rather than weeks.
Reduced Cost
With the right technology, your organization can build and deliver more apps than ever before. The best platforms create an environment where everyone has access to the tools they need to improve productivity.
Risks
At first, the low-code tool meets your project scope requirements. However, as more requests for enhancement come in, it becomes impossible to achieve every request with the device you chose. Debugging in low-code platforms is a twofold problem; the front-end and the back-end code have different debugging implications. Therefore, it is necessary to test your apps during the development cycle consistently.
Summary
Low code solutions can help expedite development lifecycles and reduce costs. It is still wise to make sure any development project is overseen by a reputable web development team. They will ensure proper customization of front-end interfaces and application integration.
Low code/no code makes it easier than ever to minimize the development lifecycle of creating flexible apps for specific tasks. Whether it be a business team or a development team, the capabilities and benefits of this platform can't be ignored.
Contact us to learn more about how Low code solutions can work for your organization.
Ready to get moving?
Discuss your project with us. The Crowers Digital team will use their expertise to design and build the right solution for you.
Related services
Discover other similar services offered by Crowers Digital: